Welcome to the AUTUMN EQUINOX RETREAT | journey into balance

As summer comes to a close, treat yourself and submerge into nature to celebrate, connect, and play as we welcome in and align with the Autumn Equinox.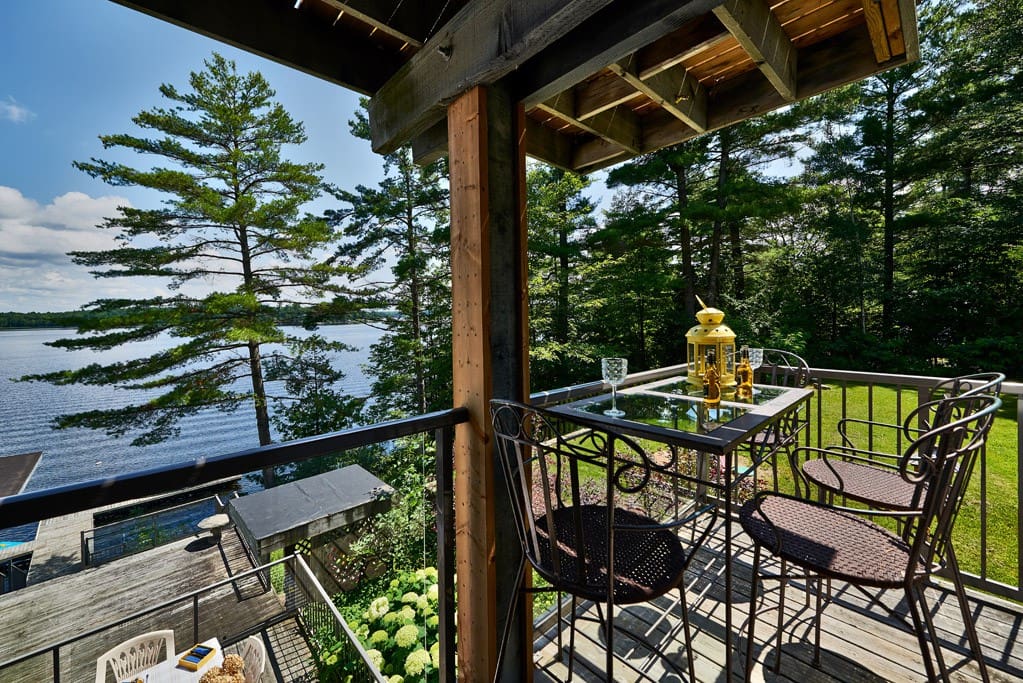 Retreat into a luxurious 3,200 square foot lakeside home surrounded by two private acres of nature for us to bask in! Our oasis for the weekend is just 90 minutes from Toronto on Sparrow Lake in Severn Bridge and features a magical blend of stylish warmth and coziness on the inside, with pristine nature and stunning lake vistas on the outside.
As we journey through the Autumn Equinox Retreat, we will explore numerous tools and experiences to awaken and stimulate your connection to your inner wisdom. You will enhance your understanding of how our external world can guide us to find clarity, harmony and balance in connection to our inner world.
Invite your mind and senses to surrender into the delicate harmony that exists both inside and outside of us.


We will explore and experience the following as we journey into balance:
- Yoga
- Meditation
- Acro Yoga
- Partner Yoga
- Handstands
- Morning Rituals
- High Vibrational Food to Fuel You
- Circle of Creation + Equinox Journaling
- Cacao Ceremony + Conscious Connection
- The Burn: Bon Fire Circle of Release
- Self Love and Development Tools to Take Home

Each unique offering is designed to be its own complete experience within the retreat.
Level up on your personal development, self love, connection to your inner child, connection to nature, the strength of community, and tune back into balance.


Welcome yourself into a new season, inside and out!
 
AUTUMN EQUINOX RETREAT SCHEDULE

FRIDAY SEPTEMBER 21
5pm onward: Arrival
8pm: Opening circle + light refreshments and snacks

SATURDAY SEPTEMBER 22 | AUTUMN EQUINOX
8am: Morning Ritual
8:30am - 9:30am: Lakeside Dock Yoga Flow + Meditation
10:00am: Breakfast + Free Time
11:30am - 1:30pm: Acro Yoga + Optional Photoshoot
2:30pm: Lunch
4pm: Circle of Creation + Equinox Journaling
6:30pm: Dinner
8pm: Cacao Ceremony + Conscious Connection
9pm: The Burn - Fire Circle of Release

SUNDAY SEPTEMBER 23
8am: Morning Ritual
8:30am - 9:30am: Partner Yoga + Meditation
10am: Brunch
11:30am: Acro Yoga + Handstands
12:30pm: Closing Circle + Optional Photoshoot
2pm: Departure

All offerings will be led by Miranda and Ryan, aka ACRO BUDDHAS.

WE WILL PROVIDE:
- Friday arrival snacks + refreshments
- Saturday breakfast, lunch and dinner
- Sunday brunch
- sacred take home memento
- journals + pen
- cacao elixir
- bath towel + crisp white linens
- canoe + four kayaks
- high speed wifi
- high vibe experiences!

WHAT DO I BRING?
- comfortable clothes to move in (no loose or baggy clothing for acro yoga)
- yoga mat
- water bottle
- swimsuit + beach towel
- layers for evening bonfire
- the regular overnight stuff, toothbrush, soap, etc.

DATES
ARRIVE: Friday September 21 from 5pm onward
DEPART: Sunday September 23 at 2pm

LOCATION
Sparrow Lake in Severn Bridge, Ontario, Canada
90 minutes north-east of Toronto
Exact address to be released only to retreat attendees

ACCOMODATIONS + COST
The Autumn Equinox Retreat experience is very limited in space and is open to a total of 12 people. Note that each room is unique in its setup and to book your experience accordingly.
All accommodations are shared with another individual, and some accommodations are only suitable for sign up with a friend or loved one.

MAIN FLOOR - Main floor has a full bathroom

Bedroom 1: Queen bed with ensuite full bathroom + private lakefront deck
Two people: $1150 ($575 per person)

Bedroom 2: Two single beds
Single: $536 per person

Bedroom 3: Two single beds
Single: $536 per person

SECOND FLOOR - Second floor has a half bathroom

Bedroom 4: Queen bed
Two people: $1072 ($536 per person)

Bedroom 5: Two single beds with optional room divider + direct access to balcony
Single: $536 per person

THIRD FLOOR
Bedroom 6: Queen bed with ensuite full bathroom
Two people: $1125 ( $562.50 per person)

If you have any questions, please connect with us directly at hi@acrobuddhas.com